Keep up to date with the latest changes on Azure using PowerShell
Keeping up with what is happening with changes and previews in Microsoft Azure is difficult, change happens all the time - and being able to stay informed on what is happening with the Azure ecosystem is half the battle, whether it is a new feature or security fix.
Microsoft publishes the latest updates on Azure Products and features to their Azure Updates blog: https://azure.microsoft.com/en-us/updates/
So you can browse the website each week, or… monitor the RSS feeds. Sometimes this isn't enough, you may want to do something with this information such as:
Create Alerts or Notifications to specific teams who may work with Azure SQL, or Azure Automation and not care about any other product.
Not have to go to the website to keep up-to-date with what is happening, maybe your happy with it popping up in your PowerShell session each time you open it.
Publish the information to Microsoft Teams channels to keep people informed.
I have created a basic PowerShell function, that will retrieve the latest updates from the Microsoft Azure Updates RSS Feed and turn it into a PowerShell object you can actually use to keep informed.
The Script - Get-AzureBlogUpdates
The script is hosted on my Github repository. Feel free to clone/recommend improvements or fork, I can add parameter sets instead of relying on the PowerShell methods listed in the examples section - if you find this script useful:
Examples
#Runs the actual Function:
Get-AzureBlogUpdates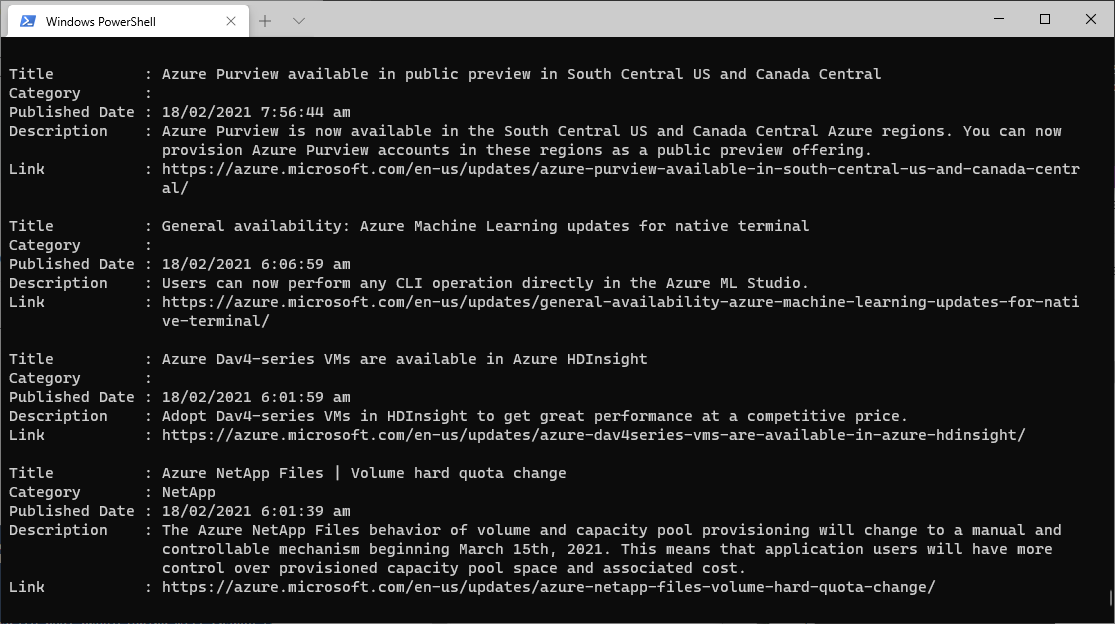 #EXAMPLE - Gets Azure Blog Updates, that have been published in the last 7 days.
$PublishedIntheLastDays = (Get-Date).AddDays(-7)
Get-AzureBlogUpdates | Where-Object 'Published Date' -GT $PublishedIntheLastDays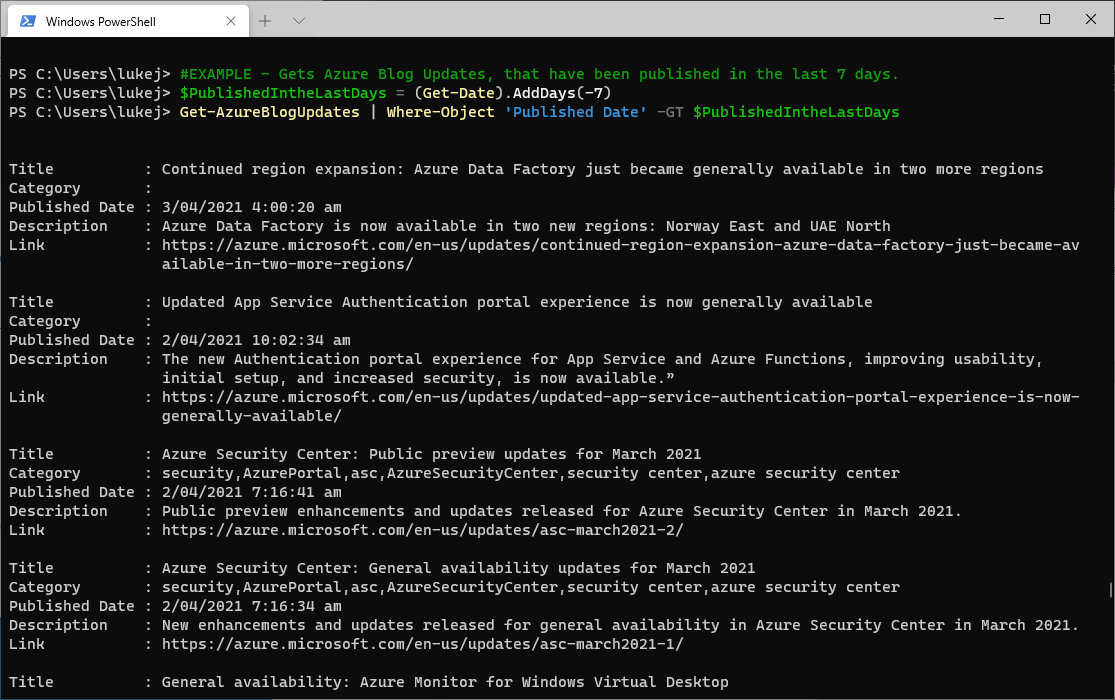 #EXAMPLE - Gets all Azure Blog Updates, and displays it as a Table, organised by Category
Get-AzureBlogUpdates | Sort-Object Category -Descending | Format-Table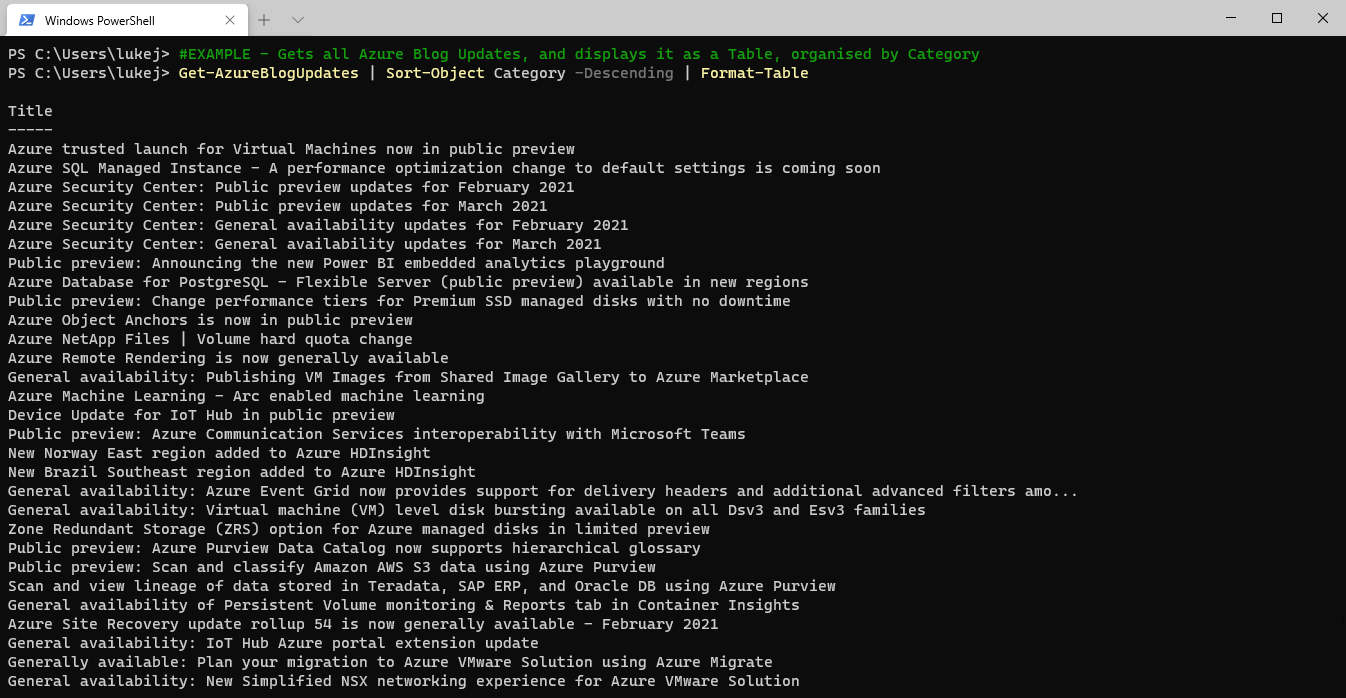 #EXAMPLE -Gets the latest 10 Azure Blog Articles
Get-AzureBlogUpdates | Select -Last 10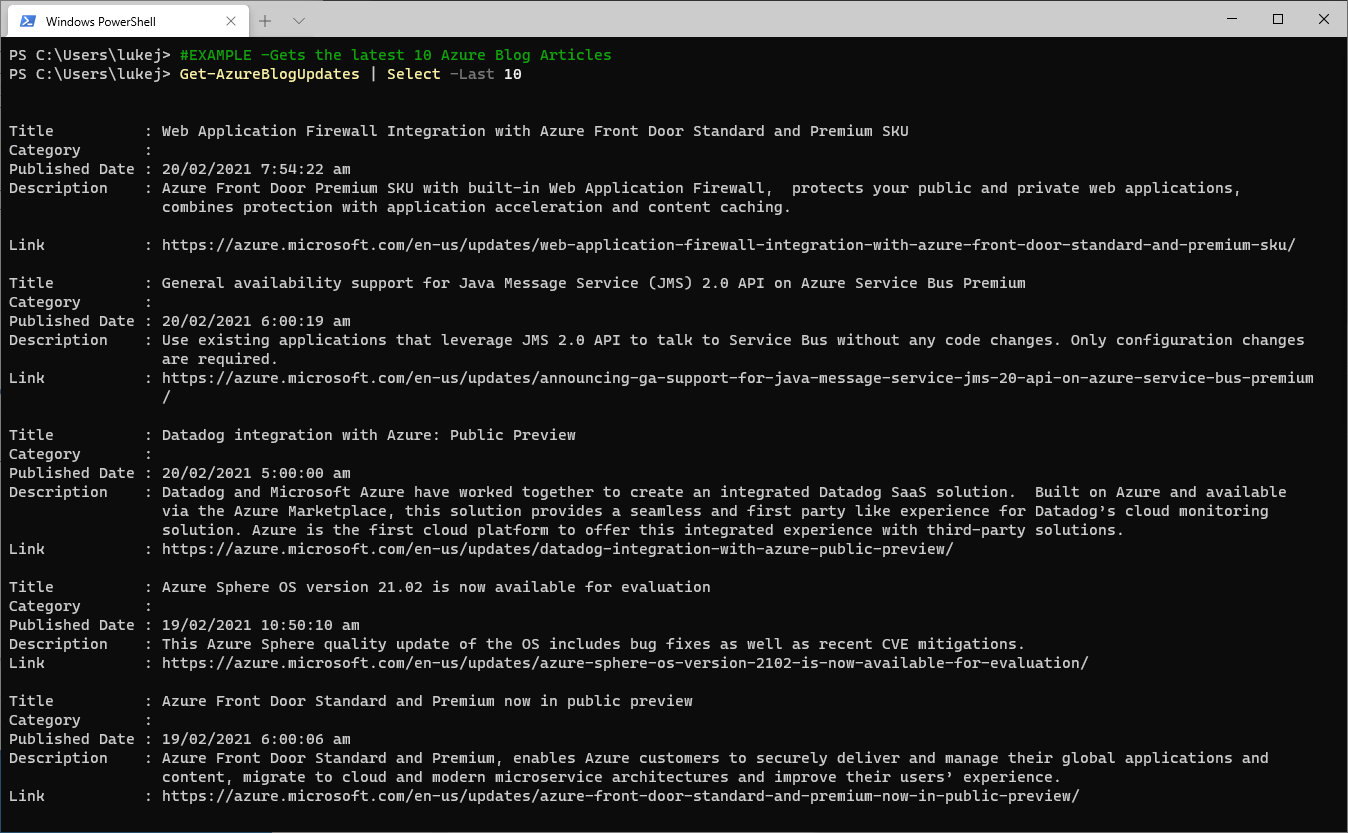 #EXAMPLE - Gets the Azure Blog Update articles, where the title has Automation in it.
Get-AzureBlogUpdates | Where-Object Title -match 'Automation'